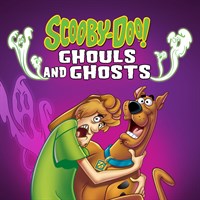 Description
The thrills kick off with a Cajun caper and a Big Scare in the Big Easy. Then, the gang heads to Hollywood in Lights! Camera! Mayhem! Follow Scooby-Doo and his friends for more haunted fun as they outwit a bank robber in Jeepers, lt's the Creeper! Enjoy these three episodes and four more.
Episodes
1. Big Scare In The Big Easy
2. Lights! Camera! Mayhem!
3. Jeepers It's The Creeper
4. A Night Of Fright Is No Delight
6. Don't Fool With A Phantom
7. Now Museum, Now You Don't
Additional information
Genres
Animation
Family/Children
Duration
7 episodes (2 h 33 min)