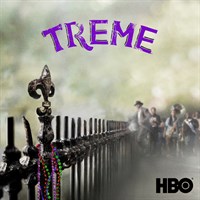 Description
Amid the ruins of a great city, a group of musicians rise up to play songs of hope and rebirth. From the creators of The Wire(R) comes this HBO drama series that takes place during the rebuilding of New Orleans in the wake of Hurricane Katrina. See every episode from all four seasons, all set in Treme--one of the city's oldest neighborhoods and an important center of African American and Creole culture, especially music.
Episodes
1. Do You Know What It Means
2. Meet De Boys on the Battlefront
3. Right Place, Wrong Time
4. At the Foot of Canal Street
6. Shallow Water, Oh Mama
8. All on a Mardi Gras Day
9. Wish Someone Would Care
11. Accentuate the Positive
12. Everything I Do Gonh Be Funky
14. Santa Claus, Do You Ever Get the Blues?
20. That's What Lovers Do
22. Knock With Me - Rock With Me
26. I Thought I Heard Buddy Bolden Say
29. Don't You Leave Me Here
36. ...To Miss New Orleans
Additional information
Duration
36 episodes (1 day 13 h 5 min)