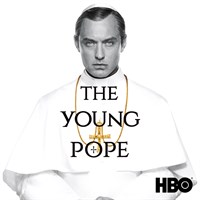 Two-time Oscar(R)-nominee Jude Law stars in this 10-episode series about a radical new Pope--the first American pope and the youngest ever elected by the College of Cardinals--who takes the Church in a stunning new direction. Diane Keaton co-stars.
Description
Lenny Belardo, a.k.a. Pope Pius XIII, is the first American pope and the youngest ever elected by the College of Cardinals. Two-time Oscar(R)-nominee Jude Law stars in this 10-episode limited series about this radical new Pope who eschews the counsel of Vatican elders, enlists the woman who raised him, Sister Mary (Oscar(R)-winner Diane Keaton), to be his chief confidante, refuses to be photographed and announces a series of hardline initiatives that confound the Vatican status quo. Over the course of the season, flashbacks and revelations paint a complicated portrait of Lenny whose strict adherence to Catholic dogma is belied by flights of fancy and crises of faith--not to mention an unusual and possibly inappropriate relationship with the wife of a Swiss Guard officer.
Episodes
First Episode
Season 1, Episode 1 TV-MA CC HD CC SD
Newly elected Pope Pius XIII, a.k.a. Lenny Belardo, defies expectations as he settles in at the Vatican to begin his reign. The youngest pope in history and first-ever American, Lenny's ascension was orchestrated by the Vatican Secretary of State, Cardinal Voiello, who mistakenly believed the young pope would follow his lead on policy and protocol. Instead, Lenny shuns Voiello and tasks his confessor, Don Tommaso, to share details on the inner thoughts and motives of those in his inner circle. Meanwhile, as Lenny's onetime mentor, Cardinal Spencer, stews about being passed over as pontiff, the new pope flies in Sister Mary, who raised him since he was delivered to an orphanage at seven, to serve as his chief advisor. While Sister Mary urges Lenny to put aside dark memories and focus on leading his billion followers, the young pope shows no inclination towards making himself available, either to the College of Cardinals or to the masses.
Second Episode
Season 1, Episode 2 TV-MA CC HD CC SD
Sofia, the Vatican's marketing director, receives a surprise directive as Lenny prepares for his first public appearance. While the cardinals await an audience with their new pope, Sister Mary catches up with Lenny's childhood friend Andrew Dussolier, another orphan-turned-cardinal. Lenny reaches out to Cardinal Spencer to take over a high Vatican post, but the meeting doesn't turn out as he hoped. Ester, wife of a Swiss Guardsman, eagerly joins the throng of followers in St. Peter's Square on the night of Lenny's first public homily as Pope Pius XIII.
Third Episode
Season 1, Episode 3 TV-MA CC HD CC SD
Baffled by the pope's intentions and desperate to retain control in the Vatican, Voiello considers his options in the face of public reaction to Lenny's speech. In a press conference, Sister Mary outlines the pope's policy towards questions and concerns from the media. Elder Cardinal Caltanissetta enjoins Spencer to put his resentment aside and accept Lenny's offer. Moved by Lenny's message, Ester is summoned by Valente, the pope's aide, to meet her pontiff. Gutierrez finds that his shared confidences with Lenny are jeopardized by a secret.
Fourth Episode
Season 1, Episode 4 TV-MA CC HD CC SD
A rural shepherd named Tonino appeals to the Vatican to recognize his miracle-working stigmata. Lenny councils a nun whose sister is gravely ill in Sri Lanka. Ester is torn by a threat from Voiello and her devotion to the pope. Lenny makes a bold decision regarding a sex-abuse case in New York, deciding to send an unlikely envoy. A visit from the prime minister of Greenland stirs Lenny's musical sensibilities.
Fifth Episode
Season 1, Episode 5 TV-MA CC HD CC SD
Voiello orchestrates a scandalous scenario designed to cripple the pope. Lenny decamps with old friend Andrew Dussolier, both in the present and the past. As his ornate papal tiara arrives, Pius XIII decides the time has come to address the College of Cardinals in the Sistine Chapel.
Sixth Episode
Season 1, Episode 6 TV-MA CC HD CC SD
Nine months after being elected, Lenny has a testy first meeting with the Italian prime minister, a progressive at odds with Pius XIII's uncompromising vision of the church. Newly minted Cardinal Gutierrez reluctantly moves out of the Vatican for his new assignment abroad. After a brief reunion with the faithful in Honduras, Dussolier assumes his new duties as Prefect of the Congregation of the Clergy, but is thrown by Lenny's strict guidelines towards prospective priests. Voiello is questioned about the disappearance of Tonino, who is looking to break from the church. Ester's miracle comes true.
Seventh Episode
Season 1, Episode 7 TV-MA CC HD CC SD
Concerned by negative publicity surrounding the suicide of a would-be priest, Voiello ponders new and familiar scenarios to take down Lenny. Mary struggles with her conscience as Lenny is distracted by the possibility of a family reunion. In the disturbing aftermath of a social event in Rome, Dussolier informs the pope he wants to return to Honduras.
Eighth Episode
Season 1, Episode 8 TV-MA CC HD CC SD
Lenny and Sister Mary deal with a shared loss in their own peculiar ways. Returning to the Vatican, Sofia suggests that the new pope embark on his first-ever trip abroad: a visit to Africa in celebration of the 30th anniversary of Sister Antonia's much-heralded 'Village of Goodness.' Lenny is heartened by a visit from his favorite author, and dismayed by the sudden departure of a friend.
Ninth Episode
Season 1, Episode 9 TV-MA CC HD CC SD
Lenny and Sister Mary relive a momentous incident from the past as the pope faces the prospect of an unthinkable loss in the present. In New York, Gutierrez faces daunting odds, including the threat of blackmail, in his ongoing investigation of Kurtwell, a powerful archbishop suspected of longtime sexual misconduct.
Tenth Episode
Season 1, Episode 10 TV-MA CC HD CC SD
Season Finale. Reunited with a changed Gutierrez at the Vatican, the pope considers an appropriate course of action regarding Archbishop Kurtwell. Father Tomasso gets a promotion, while Sister Mary takes on a new role. The prospect of a reconciliation leads the young pope to make an unexpected change of travel plans--and policy.
Extra: The Young Pope: Trailer
The Young Pope: Trailer
Season 1, Extra TV-MA CC HD CC SD
Meet the Young Pope: Jude Law is electrifying as a Pope like no other in history in this 10-part HBO limited series.
Extra: The Young Pope: An Invitation to the Set
The Young Pope: An Invitation to the Set
Season 1, Extra TV-MA CC HD CC SD
Join Jude Law on the set of 'The Young Pope' for this inside look at the limited series about a young, bold new pope.
Additional information
Age rating
Duration
10 episodes (9 h 6 min)
Duration
10 episodes (9 h 6 min)
| | |
| --- | --- |
| Windows | Windows 8, Windows 8.1, Windows 10 or later |
| Xbox | Xbox 360, Xbox One, Xbox One S, Xbox One X |
| Mobile | Windows Phone 8, Windows Phone 8.1, Windows 10 or later |
Portions of content provided by Tivo Corporation - © 2021 Tivo Corporation