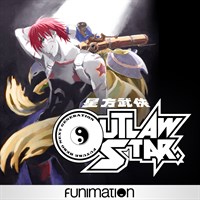 Description
Gene Starwind goes from jack-of-all-trades to pilot of the Outlaw Star on the adventure of a lifetime. Together with his ragtag crew, they must find the mysterious Galactic Leyline and survive the dangers of space!
Episodes
4. When the Hot Ice Melts
5. The Beast Girl Ready to Pounce!
6. The Beautiful Assassin
9. A Journey of Adventure! Huh?
10. Gathering for the Space Race
12. Mortal Combat with the El Dorado
13. Advance Guard from Another World
16. Demon of the Water Planet
17. Between Life and Machine
18. The Strongest Woman in the Universe
20. Cats and Girls and Spaceships
23. Hot Springs Planet Tenrei
24. Cutting the Galactic Leyline
Additional information
Duration
26 episodes (11 h 1 min)