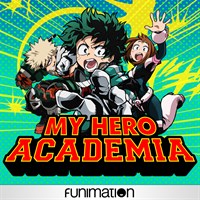 Available on
Xbox One
HoloLens
PC
Mobile device
Xbox 360
Description
Despite being born powerless into a super-powered world, Izuku refuses to give up on his dream of becoming a hero. He enrolls himself in a prestigious hero academy with a deadly entrance exam. To make the grade, he'll have to put in some serious study time with the mightiest hero of all.
Episodes
1. Izuku Midoriya: Origin
2. What It Takes to Be a Hero
9. Yeah, Just Do Your Best, Iida!
10. Encounter with the Unknown
13. In Each of Our Hearts
Additional information
Age rating
Genres
Action/Adventure
Anime
Duration
13 episodes (5 h 18 min)