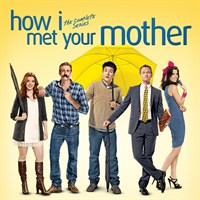 Description
A comedy series about a guy in his twenties and the romance between him and the woman who will be his wife and the mother of his children. the series will also flash forward to him telling the story to his kids.
Episodes
3. The Sweet Taste of Liberty
10. The Pineapple Incident
17. Life Among the Gorillas
18. Nothing Good Ever Happens After 2 A.M.
24. The Scorpion and the Toad
27. World's Greatest Couple
33. How Lily Stole Christmas
34. First Time in New York
36. Monday Night Football
49. How I Met Everyone Else
59. The Chain of Screaming
60. Sandcastles in the Sand
66. The Best Burger in New York
86. Right Place Right Time
92. The Sexless Innkeeper
97. Slapsgiving 2: Revenge of the Slap