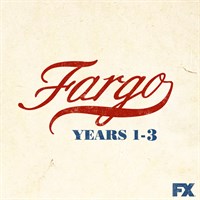 Description
An adaptation of the film, Fargo features a new story and new characters. Billy Bob Thornton, Martin Freeman, Colin Hanks and Allison Tolman star.
Episodes
1. The Crocodile's Dilemma
7. Who Shaves the Barber?
9. A Fox, a Rabbit, and a Cabbage
17. Did You Do This? No, You Did It!
21. The Law of Vacant Places
22. The Principle of Restricted Choice
23. The Law of Non-Contradiction
24. The Narrow Escape Problem
25. The House of Special Purpose
27. The Law of Inevitability
28. Who Rules the Land of Denial?
Additional information
Duration
30 episodes (1 day 2 h 39 min)