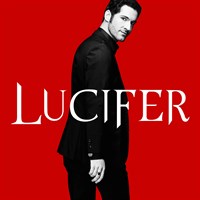 Episodes
2. Lucifer, Stay. Good Devil.
3. The Would-Be Prince of Darkness
9. A Priest Walks into a Bar
14. Everything's Coming Up Lucifer
15. Liar, Liar, Slutty Dress on Fire
24. Stewardess Interruptus
28. Deceptive Little Parasite
30. Sympathy for the Goddess
31. The Good, The Bad and The Crispy
32. They're Back, Aren't They?
33. The One With The Baby Carrot
34. Mr. and Mrs. Mazikeen Smith
35. What Would Lucifer Do?
36. Welcome Back, Charlotte Richards
37. Vegas With Some Radish
46. High School Poppycock
50. Orange is The New Maze
51. The Angel of San Bernadino
52. Anything Pierce Can Do I Can Do Better
54. Quintessential Deckerstar
56. Bonus Episode: Boo Normal
57. Bonus Episode: Once Upon a Time
Additional information
Duration
57 episodes (1 day 17 h 32 min)