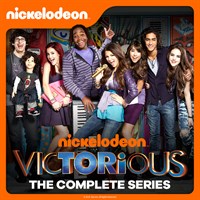 Description
A sensational singer, dynamic dancer, and amazing actress is discovered! Tori Vega is accidentally thrown into the spotlight at a musical showcase and offered admission to Hollywood Arts, the most prestigious performing arts high school in the country!
Episodes
8. Survival of the Hottest
11. The Great Ping-Pong Scam
18. A Film by Dale Squires
19. Sleepover at Sikowitz's
20. Beggin' On Your Knees
25. Victorious: Locked Up!
28. Tori Tortures Teacher
30. Terror on Cupcake Street
32. 7 Secrets: Victoria Justice
37. Andre's Horrible Girl
39. Tori & Jade's Play Date
45. Bonus Content Season 3
50. Three Girls And A Moose
52. Tori Fixes Beck & Jade
53. One Thousand Berry Balls
Additional information
Duration
59 episodes (1 day 0 h 6 min)