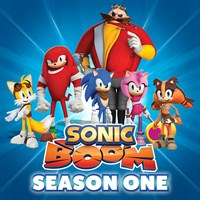 Description
Sonic, Tails, Amy, Knuckles, and Sticks reside on Seaside Island in Hedgehog Village. Together they defend the island from various threats like Doctor Eggman and his robotic creations.
Episodes
2. Can An Evil Genius Crash on Your Couch for a Few Days?
7. The Curse of Buddy-Buddy Temple
13. Let's Play Musical Friends
15. Fortress of Squalitude
17. Curse of the Cross-Eyed Moose
22. Dude, Where's My Eggman?
23. How To Succeed in Evil Without Really Trying
26. Dr. Eggman's Tomato Sauce
28. It Wasn't Me, It Was th One-Armed Hedgehog
30. Chili Dog Day Afternoon
38. Beyond the Valley of the Cubots
42. New Year's Retribution
45. Fire In A Crowded Workshop
48. Battle of the Boy Bands
52. It Takes a Village To Defeat A Hedgehog
Additional information
Networks
Première TV Distribution
Age rating
Genres
Animation
Anime
Family/Children
Duration
52 episodes (10 h 4 min)