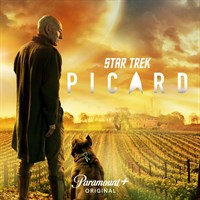 Description
STAR TREK: PICARD features Sir Patrick Stewart reprising his iconic role as Jean-Luc Picard, which he played for seven seasons on Star Trek: The Next Generation. The new series will follow this iconic character into the next chapter of his life. Alongside Stewart, STAR TREK: PICARD will also star Isa Briones, Santiago Cabrera, Michelle Hurd, Alison Pill, Harry Treadaway and Evan Evagora.
Episodes
3. The End Is The Beginning
9. Et in Arcadia Ego, Part 1
10. Et in Arcadia Ego, Part 2
Extra: Why Do People Connect With Picard?
Extra: Go Behind The Bold Visual Effects
Extra: The Props Of Star Trek: Picard
Extra: Inside The Making Of Picard's Many Aliens
Extra: Welcome to Coppelius
Extra: Take A Tour Of La Sirena
Extra: Writing The Show's Theme Song With Composer Jeff Russo
Extra: Take A Tour Of La Sirena
Additional information
Duration
10 episodes (8 h 10 min)