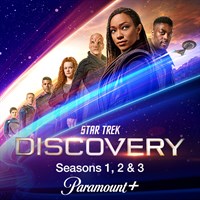 Description
STAR TREK: DISCOVERY follows the voyages of Starfleet on their missions to discover new worlds and new life forms, and one Starfleet officer who must learn that to truly understand all things alien, you must first understand yourself.
Episodes
2. Battle at the Binary Stars
4. The Butcher's Knife Cares Not for the Lamb's Cry
7. Magic to Make the Sanest Man Go Mad
8. Si Vis Pacem, Para Bellum
13. What's Past Is Prologue
14. The War Without, the War Within
15. Will You Take My Hand?
20. Saints of Imperfection
27. Through the Valley of Shadows
29. Such Sweet Sorrow, Part 2
30. That Hope Is You, Part 1
42. That Hope Is You, Part 2
Additional information
Duration
42 episodes (1 day 10 h 21 min)