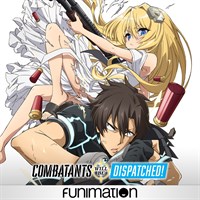 Description
When the evil Kisaragi Corporation sets its sights on interstellar conquest, Combatant Agent Six and his android partner are tasked with taking over a magical planet. But climbing the corporate ladder won't be easy—a Demon Lord's army has its own agenda!
Episodes
1. Spies Will Be Dispatched!
2. Annihilate Your Business Rivals!
3. The Right Way to Clear a Tower!
4. How to Defeat an Evil Leader!
6. Combatants Will Be Dispatched!
7. The Con Artist Marriage Girl!
8. Corrupt, Black-Hearted Knight
9. Carnivorous Female Chimera!
10. Kisaragi Leaders Will Be Livestreamed!
11. How to Make an Evil Leader Cry!
12. Strong Partner and Smart Partner!
Additional information
Networks
Crunchyroll, LLC
Age rating
Genres
Action/Adventure
Animation
Anime
Comedy
Sci-Fi/Fantasy
Duration
12 episodes (4 h 47 min)