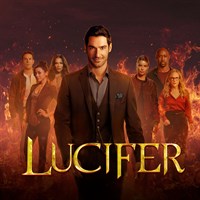 Description
LUCIFER is the story of the original fallen angel. Bored and unhappy as the Lord of Hell, Lucifer Morningstar abandoned his throne and retired to the city of Angels where he has teamed up with LAPD detective Chloe Decker to take down criminals. Charming, charismatic and devilishly handsome, Lucifer has a way of manipulating people into confessing their deepest, darkest secrets, which helps Decker deliver justice. But Lucifer quickly discovers that Chloe also makes him vulnerable. When he's around her, the devil can bleed like anyone else. It's a truly scary realization that doesn't sit well with his best friend, Mazikeen aka Maze, a fierce demon in the form of a beautiful young woman. Maze wants nothing more than to leave Los Angeles and get back to her life in Hell, but Lucifer is having one hell of a good time with the mortals, and is not about to leave now! Maybe everyone has a chance at redemption – even the Devil!
Episodes
2. Lucifer, Stay. Good Devil.
3. The Would-Be Prince of Darkness
9. A Priest Walks into a Bar
14. Everything's Coming Up Lucifer
15. Liar, Liar, Slutty Dress on Fire
24. Stewardess Interruptus
28. Deceptive Little Parasite
30. Sympathy for the Goddess
31. The Good, The Bad and The Crispy
32. They're Back, Aren't They?
33. The One With The Baby Carrot
34. Mr. and Mrs. Mazikeen Smith
35. What Would Lucifer Do?
36. Welcome Back, Charlotte Richards
37. Vegas With Some Radish
46. High School Poppycock
50. Orange is The New Maze
51. The Angel of San Bernadino
52. Anything Pierce Can Do I Can Do Better
54. Quintessential Deckerstar
56. Bonus Episode: Boo Normal
57. Bonus Episode: Once Upon a Time
59. Somebody's Been Reading Dante's Inferno
60. O, Ye of Little Faith, Father
64. Devil Is As Devil Does
67. Who's Da New King of Hell?
69. Lucifer! Lucifer! Lucifer!
71. It Never Ends Well for the Chicken
77. Bloody Celestial Karaoke Match
79. Daniel Espinoza: Naked and Afraid
80. A Little Harmless Stalking
81. Nothing Lasts Forever
82. Is This Really How It's Going to End?
83. A Chance at a Happy Ending
84. Nothing Ever Changes Around Here
87. Pin the Tail on the Baddie
88. The Murder of Lucifer Morningstar
89. A Lot Dirtier Than That
90. My Best Friend's Wedding
91. Save the Devil, Save the World
93. Partners 'Til the End
Additional information
Duration
93 episodes (3 days 1 h 31 min)