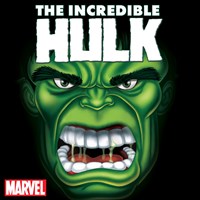 Description
Caught in the blast of a gamma ray bomb, Dr. Bruce Banner finds himself changing into a green giant known as The Incredible Hulk whenever he loses his temper. On the run and trying to find a cure that will let him control his transformations, Bruce Banner struggles to control the beast within.
Episodes
1. Return of the Beast, Part 1
2. Return of the Beast, Part 2
4. Helping Hand, Iron Fist
6. Man to Man, Beast to Beast
10. And the Wind Cries...Windigo!
11. Darkness and Light, Part 1
12. Darkness and Light, Part 2
13. Darkness and Light, Part 3
14. Hulk of a Different Color
17. They Call Me Mr. Fixit
Additional information
Genres
Action/Adventure
Animation
Duration
21 episodes (7 h 46 min)