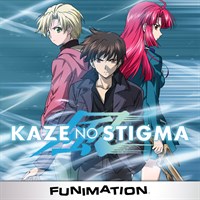 Description
Kazuma is a descendent of an ancient clan skilled in the magical Fire Arts. Unfortunately for him, the gift seems to have skipped a generation. Defeated by his younger, female cousin, Ayano, in a battle to become the clan's successor, Kazuma is exiled. But now he's back, risen from the ashes and armed with a powerful new mojo that's sure to fan the flames of the family rivalry. The cooler he gets - the hotter she burns, and when Wind and Fire collide, Tokyo is caught in the eye of the storm.
Episodes
2. Confrontation with the Past
3. The Head of the Kannagi Family
5. The One Who Casts Aside Doubt
9. Meeting Under the Moon
10. The One to Be Protected
12. Confession Under the Moon
13. Let's Go to the Amusement Park!
14. Another Ayano Disaster
17. How to Defeat a Magic User
20. The Remnant of the Emerald
22. Determination and Hesitation
24. Protectors of the Wind
Additional information
Networks
Crunchyroll, LLC
Duration
24 episodes (9 h 47 min)