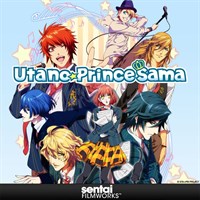 Description
Haruka has a chance to take the entrance exam for Saotome Academy for the Performing Arts,she is close to her dream of composing songs for her favorite singer Hayato. With tough competition being a writer, Haruka is paired with one of six male singers. Just to make things more complicated, writers and singers are NOT allowed to become romantically involved! Can one girl and six young men learn to make beautiful music together in a platonic sense? Find out in Uta no Prince Sama!
Episodes
4. Believe Heart to the End of the World
5. Full Throttle Chivalrous Spirit Go! Fight!!
12. The Heart of a Lost Child
Additional information
Duration
13 episodes (5 h 15 min)