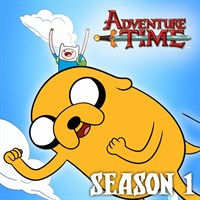 Description
They're not righteous, they're wrongteous! Hook up with Finn and Jake as they travel the Land of Ooo searching for adventure. But remember, adventure isn't always easy. Sometimes you've got to battle fire gnomes that torture old ladies, save a smelly hot dog princess from the Ice King and thaw out a bunch of frozen business men. What the cabbage?! Get ready for some seriously unserious adventure in the first volume of ADVENTURE TIME!
Episodes
1. Slumber Party Panic / Trouble in Lumpy Space
2. Prisoners / Tree Trunks
3. The Enchiridion / The Jiggler
4. Ricardio, the Heart Guy / Business Time
5. My Two Favorite People / Memories of Boom Boom Mountain
6. Finn the Wizard / Evicted!
7. City of Thieves / The Witch's Garden
8. What Is Life? / Ocean of Fear
9. Wedding Bells Thaw / Freak City
12. What Have You Done?/Rainy Day Daydream
13. The Gut Grinder / Finn Meets His Hero
Additional information
Duration
13 episodes (4 h 56 min)