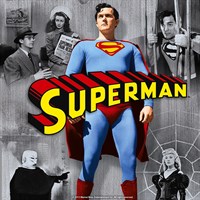 Description
Kirk Alyn sets the heroic standard for generations to come – as Superman, the Man of Steel – in these fun, multichapter cliffhanger adventures. The 15-chapter Superman from 1948 spans our hero's first arrival on Earth to his alter-ego as reporter Clark Kent of The Daily Planet alongside Lois Lane (Noel Neill) through his battle with the sinister Spider Lady and her "relativity reducer ray." Next, while the real world faced the dawn of the nuclear age, Metropolis's caped hero faced that menace and more in the 15-chapter Atom Man vs. Superman. Is archvillain Lex Luthor behind both the UFO and the atomic bomb that threatens to level Metropolis? Of course not. He claims to be a simple television repairman! Before George Reeves starred in the classic 1950s television series, these Superman serials truly started the superhero craze and set the bar for all future portrayals of the Man of Steel.
Episodes
1. Superman Comes to Earth
7. Into the Electric Furnace!
8. Superman to the Rescue
13. Hurled to Destruction
19. Superman Meets Atom Man!
20. Atom Man Tricks Superman
22. At the Mercy of Atom Man!
24. Superman Crashes Through
28. Atom Man's Flying Saucers
30. Superman Saves the Universe
Additional information
Genres
Action/Adventure
Sci-Fi/Fantasy
Duration
30 episodes (8 h 19 min)