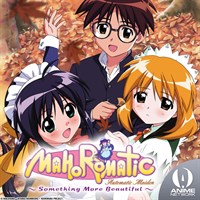 Description
The number of days that Mahoro has left are steadily declining. Another android girl enters their lives when she becomes attached to Mahoro.
Episodes
2. From Today on, You Are Minawa
3. Dreams Should Be Grand
4. Looking for a Lost Object
5. Will I Catch a Cold Tomorrow?
6. Doing Delightful New Year Things
7. Don't Ever Come Back Again!
8. Grandfather and Grandson
9. Sweeter Than Love, but a Bit Bitter
11. A Wish, the Color of Cherry Blossoms
Additional information
Duration
14 episodes (5 h 39 min)