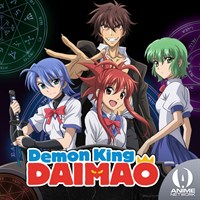 Available on
Xbox One
HoloLens
PC
Mobile device
Xbox 360
Description
From Marvelous Entertainment (Mushi-shi, Air Gear) and Artland (Mobile Suit Gundam 00, Legend of the Galactic Heroes) comes the story of young Akuto Sai, a new student at Constan Magical Academy. On the day of admittance, his aptitude test has predicted his future occupation as Demon King. And so begins the trials and tribulations of school life as he is hounded by do-gooders, self appointed protectors, and overzealous followers. In this school, there's no rest for the Devil King.
Episodes
1. The Demon King Is Born
2. Strange Surveillance Agent
3. A Little Intimidating Senior
4. The Isolation Cell Is Fun?
5. Caution! Underground Labyrinth
6. Let's Go to the Beach School!
7. The Legendary Hero Emerges?!
9. Crazy Fuss About an Arranged Marriage
10. Akuto's Great Capital War
11. The Girl's Final Battle
Additional information
Duration
12 episodes (4 h 58 min)