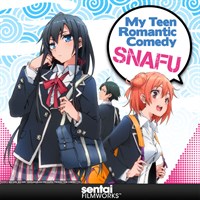 Description
When the loner Hachiman Hikigaya is coerced into joining the "Services Club" run by the smart, attractive, and stuck up Yukino Yukinoshita, it's a recipe for disaster! But we haven't yet added the third caustic ingredient! Bright and cheery Yui Yuigahama needs the Service Club's help to bake cookies. It could be a recipe for romance. It could just as easily end in a nuclear meltdown! Get ready for romantic comedy gone totally wrong as the barrage à trois of the Service Club is unleashed!
Episodes
1. Youth Romantic Comedy is Wrong, as I Expected
2. All People Surely Have Their Own Worries
3. Sometimes the Gods of Rom-Coms Does Nice Things.
4. In Other Words, He Doesn't Have Many Friends
5. Once Again, He Turns Back on the Path from Whence He Came
6. His Beginning with Her Finally Ends
7. Anyway, Getting No Rest, Even Though it's Summer Break, Just Isn't Right
8. One Day, They Will Learn the Truth
9. For the Third Time, He Turns Back on the Path from Whence He Came
10. The Distance Between Them Remains Unchanged as the Festival is Becoming a Carnival.
11. And So the Curtain on Each Stage Rises, and the Festival is Festivaling Its Very Best.
12. Thus, His and Her and Her Youth Continues to Be Wrong
13. And So, Their Festival Will Never End
Additional information
Duration
13 episodes (5 h 20 min)