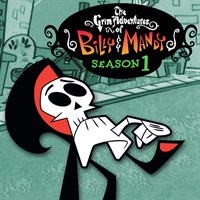 Description
As Season 1 is unearthed, Grim settles in to his new life above ground. Billy and Mandy get a lesson on possession, Grim lands a part-time job as a swimsuit model and Mandy is forced to move in with Billy after a stink bomb explodes in her house. Sick! Looks like you're just gonna have to grim and bear it.
Episodes
1. Meet the Reaper/Skeletons in the Water Closet/Opposite Day
2. Get Out Of My Head/Look Alive/Mortal Dilemma
3. Fiend Is like Friend Without the R/Recipe for Disaster/A Dumb Wish
4. Grim or Gregory?/Grim vs. Mom/Tastes like Chicken
5. Something Stupid This Way Comes/A Grim Surprise/Beasts & Barbarians
6. Billy's Growth Spurt/Hoss Delgado: Spectral Exterminator/Tickle Me Mandy
7. Billy and the Bully/To Eris Human/Big Trouble in Billy's Basement
8. Battle of the Bands/Little Rock of Horror/Dream a Little Dream
9. Toadblatt's School of Sorcery/Educating Grim/It's Hokey Mon!
10. Night of the Living Grim/Brown Evil Parts One and Two
11. Mandy the Merciless/Creating Chaos/The Really Odd Couple
12. Who Killed Who?/Tween Wolf
13. Grim in Love/Crushed/Love Is EVOL Spelled Backwards
Additional information
Duration
13 episodes (4 h 48 min)