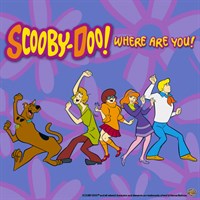 Description
A globetrotting canine Sherlock Holmes with a heart of pure cowardice, Scooby-Doo shivers and cowers in corners, but he always solves the mystery--with laughs. Starring with Scooby-Doo are the alluring Scooby-Dee, dim-witted Scooby-Dum and a special guest star each episode, as well as Scobby's four teenage, human friends--Freddy, Daphne, Shaggy and Velma--who form the mystery-solving club. Watch out, villains! Scooby-Doo is on your trail...
Episodes
1. What a Night for a Knight
4. Mine Your Own Business
6. What The Hex Going On?
10. Bedlam in the Big Top
11. A Gaggle of Galloping Ghosts
12. Scooby-Doo and a Mummy Too
16. A Night of Fright Is No Delight
Additional information
Age rating
Genres
Animation
Family/Children
Duration
17 episodes (6 h 15 min)