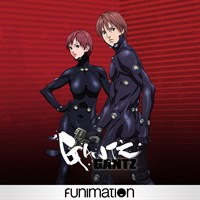 Description
If you are chosen by the black sphere known as the Gantz, you are already dead – yet you might be able to reclaim your mortality. First, the Gantz demands that you hunt aliens hidden among the population. If you die again, it's permanent.
Episodes
1. It's the Beginning of a Brand New Day
4. OK, Here Are Your Scores
5. That Means at the Time...
9. I'll Kill You Without a Moment's Hesitation
15. I Wanna Be There Now!
17. I Can Shoot Them, Can't I?
19. What the Hell Is That?!
22. Don't Ever Say That Again!
24. No Labyrinth Is Inescapable
25. Let's All Go Back Alive
Additional information
Duration
26 episodes (10 h 8 min)