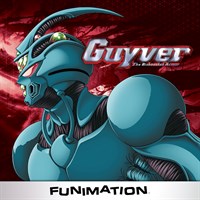 Original price was $38.99, current price $4.99
Original price was $38.99, current price $4.99
Description
Lurking under the face of everyday life lies a dark world of pain and destruction. A world controlled by a sinister brotherhood who hide their fangs behind masks of humanity, known as the Chronos Corporation. While investigating a mysterious explosion near his school, Sho Fukamachi happens upon the Chronos Corporation`s greatest weapon: a techno-organic suit of bioarmor known as the Guyver. But Chronos is determined to conceal their secrets at any cost. Sho soon finds himself relentlessly pursued by its army of horrific bio-monsters. With nowhere to run, Sho is forced to call upon the fearsome power of the Guyver and rip his opponents limb from limb in a desperate struggle for survival. Experience this all new production of this sci-fi anime legend in the most complete rendition of Guyver ever animated. Dare to discover the horror that lies beneath!
Episodes
1. The Wondrous Bio-Boosted Armor
2. The Secret Society of Chronos
6. Beyond the Desperate Battle
12. To Each His Own Resolution
17. Nightmarish Encirclement
19. The Night Before the Final Assault
21. Relic's Point in Disarray
22. Countdown to Collapse
25. Quickening of the Chrysalis
26. Come Forth, Gigantic!
Additional information
Networks
Crunchyroll, LLC
Genres
Action/Adventure
Anime
Duration
26 episodes (10 h 13 min)