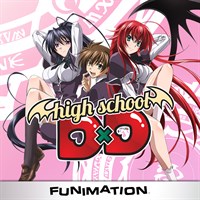 Description
After being killed by a fallen angel, Issei Hyodo is brought back to life by the gorgeous president of his high school's Occult Research Club, Rias Gremory, who turns out to be a high-ranking demon. With devilish new powers, Issei is bound to serve Rias.
Episodes
5. I Will Defeat My Ex-girlfriend!
9. I've Begun My Training!
11. The Acclaimed Battle Continues!
12. I'm Here to Keep My Promise!
Additional information
Networks
Crunchyroll, LLC
Duration
12 episodes (4 h 49 min)