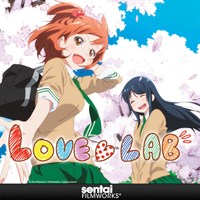 Available on
Xbox One
HoloLens
PC
Mobile device
Xbox 360
Description
When Riko walks in on the respected student council president, Maki, making out with a body pillow, she learns that appearances can be deceiving. Now it's up to Riko to give Maki a much-needed lesson in all things love!
Episodes
1. Their Remarkable Encounter
2. The Shy, the Cool, and the Perverted?
3. Sayo and Eno Declare War
4. Love Lab Resumes! Or So We Thought...
5. This Is Fuji Girls' Love Broadcasting Station
6. The Terrible Legend of Riko
7. To the Kurahashi House
10. The Elite Student Council
Additional information
Duration
13 episodes (5 h 33 min)