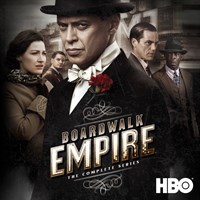 Description
Atlantic City, 1920. When alcohol was outlawed, outlaws became kings. This epic drama series follows the birth and rise of organized crime in 'the world's playground' at the dawn of Prohibition. Steve Buscemi heads up the cast as Enoch 'Nucky' Thompson, the city's undisputed czar who is equal parts politician and gangster. With illegal alcohol opening up lucrative opportunities, Atlantic City becomes a major hub of bootlegging activity as Nucky and his inner circle preside over notorious backroom politics, vicious power struggles, a constant onslaught by the Feds, and Nucky's own insatiable appetite for women, profits and power.
Episodes
16. What Does the Bee Do?
16. What Does the Bee Do?
20. Two Boats and a Lifeguard
21. Battle of the Century
23. Under God's Power She Flourishes
49. Golden Days for Boys and Girls
Additional information
Duration
56 episodes (2 days 4 h 45 min)