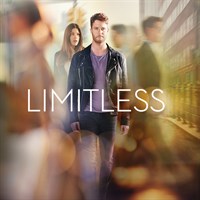 Description
Limitless is based on the feature film, is a fast-paced drama about Brian Finch, who discovers the brain-boosting power of the mysterious drug NZT and is coerced by the FBI into using his extraordinary cognitive abilities to solve complex cases for them.
Episodes
3. The Legend Of Marcos Ramos
6. Side Effects May Include...
7. Brian Finch's Black Op
8. When Pirates Pirate Pirates
11. This Is Your Brian On Drugs
12. The Assassination of Eddie Morra
13. Stop Me Before I Hug Again
14. Fundamentals Of Naked Portraiture
16. Sands, Agent Of Morra
20. Hi, My Name Is Rebecca Harris
Additional information
Duration
22 episodes (15 h 41 min)