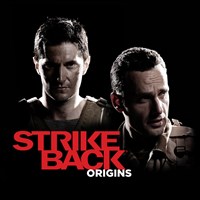 A scapegoated British soldier is recruited to defuse an international terrorist crisis in this six-part series that inspired 'Strike Back.'
Buy season pass and get all current and future episodes of season 1
Description
In this six-part series that inspired the hit Cinemax series 'Strike Back,' scapegoated British soldier John Porter (Richard Armitage) is recruited by top-secret agency Section 20 and former team member Hugh Collinson (Andrew Lincoln) to defuse an international terrorist crisis--a mission that holds clues to both agent's dark pasts.
Episodes
Episode 1
Season 1, Episode 1 TV-MA CC HD CC SD
Series Premiere. Exiled from the British Special Forces, John Porter resurfaces years later in hopes of rescuing a kidnapped journalist.
Episode 2
Season 1, Episode 2 TV-MA CC HD CC SD
Porter allows himself to be captured by Al Nazeri in order to make contact with Katie and As'ad. Though both he and Katie are beaten badly, Porter is able to escape with the help of As'ad, leading to a desert showdown with his terrorist pursuers--and a partial extraction that raises questions about Collinson's actions during the ill-fated rescue of Bratton years earlier.
Episode 3
Season 1, Episode 3 TV-MA CC HD CC SD
Now working for Section 20 under Collinson, Porter heads to Zimbabwe, where Felix Masuku, a marksman with a Special Forces past, has been imprisoned for the attempted assassination of the President. Posing as a diamond dealer, Porter is arrested and ends up in the same high-security prison as Masuku, with orders to get him out at all costs.
Episode 4
Season 1, Episode 4 TV-MA CC HD CC SD
With Colonel Tshuma's elite forces and a cunning Bushman tracker in hot pursuit, Porter and Masuku head towards the border of South Africa, where they evacuate a girls' orphanage that sits in harm's way and prepare for a possible last stand. Meanwhile, Collinson shares tragic news involving Porter's family back home, and learns who blew Thompson's cover.
Episode 5
Season 1, Episode 5 TV-MA CC HD CC SD
On the heels of a suspicious friendly fire attack on U.S. forces, Porter is sent to Afghanistan to uncover the source of an encryption breach. The search leads him to Gerald Baxter, a former technical-support contractor with CIA ties who orchestrated a bombing that accidentally killed civilians in Iraq years ago, and disappeared after being diagnosed with PTSD.
Episode 6
Season 1, Episode 6 TV-MA CC HD CC SD
Season Finale. A deadly game of Russian roulette ends with Porter and Baxter blasting their way into the desert, with Sharq's men in pursuit. In London, Collinson works to extricate the pair. Meanwhile, the last surviving victim in Porter's ill-fated 2003 Iraq rescue dies, leaving Thompson with ballistic evidence that could finally ID his shooter.
Extra: Strike Back Origins: Trailer
Strike Back Origins: Trailer
Season 1, Extra TV-MA CC HD CC SD
A special sneak preview of the original British action series 'Strike Back: Origins' that inspired the hit Cinemax series.
Additional information
Age rating
Duration
6 episodes (4 h 27 min)
Duration
6 episodes (4 h 27 min)
| | |
| --- | --- |
| Windows | Windows 8, Windows 8.1, Windows 10 or later |
| Xbox | Xbox 360, Xbox One, Xbox One S, Xbox One X |
| Mobile | Windows Phone 8, Windows Phone 8.1, Windows 10 or later |
Portions of content provided by Tivo Corporation - © 2021 Tivo Corporation