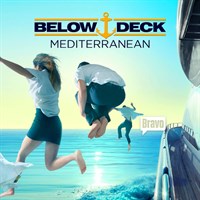 Available on
Xbox One
HoloLens
PC
Mobile device
Xbox 360
Description
The "Below Deck" franchise is heading to the world's oldest cruising grounds, the Mediterranean Sea, for its next super-yacht charter season. The new European setting not only provides spectacular scenery, culture and nightlife, but a whole new level of service standards and charter guest demands. The series follows nine crew members living and working aboard a 150' mega-yacht as it undertakes a new charter season in the Mediterranean. Providing unparalleled service to wealthy and uncompromising guests is made even more difficult as the team faces everything from love triangles to seeing fellow crew members shockingly cross the line with guests.
Episodes
5. My Big Fat Greek Threesome
10. Charter from Heaven, Charter from Hell?
11. They Hate Us Cuz They Ain't Us
12. The Beautiful Thing About Subpar
13. That Was Very Greek of Us
Additional information
Duration
13 episodes (9 h 41 min)