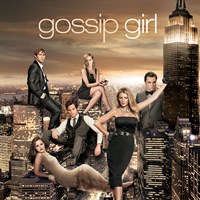 Description
Based on the best-selling series of young-adult novels by Cecily von Ziegesar and executive produced by Josh Schwartz ("Chuck," "The O.C.") & Stephanie Savage ("The O.C."), "Gossip Girl" is a one-hour drama based on the lives of privileged Manhattan prep school teens. The students first learn that Serena van der Woodsen, once the Upper East Side's most notorious party girl, is back in town the way they learn all the important news in their lives: from the blog of the all-knowing albeit ultra-secretive Gossip Girl.
Episodes
9. Blair Waldorf Must Pie
13. The Thin Line Between Chuck and Nate
14. The Blair Bitch Project
15. Desperately Seeking Serena
18. Much 'I Do' About Nothing
19. Summer, Kind of Wonderful
23. The Serena Also Rises
28. Bonfire of the Vanity
29. The Magnificent Archibalds
31. O Brother, Where Bart Thou?
32. In the Realm of the Basses
36. The Age of Dissonance
40. Southern Gentleman Prefer Blondes
43. The Goodbye Gossip Girl
48. Rufus Getting Married
50. How to Succeed in Bassness
51. The Grandfather: Part II
52. They Shoot Humphreys, Don't They?
53. The Last Days of Disco Stick!
54. The Treasure of Serena Madre
58. The Sixteen Year Old Virgin
59. The Empire Strikes Jack
61. The Unblairable Lightness of Being
63. It's A Dad, Dad, Dad, Dad World
64. Ex-Husbands and Wives
65. Last Tango, Then Paris
73. Juliet Doesn't Live Here Anymore
74. The Witches of Bushwick
77. The Kids Are Not All Right
80. It-Girl Happened One Night
81. While You Weren't Sleeping
83. The Kids Stay in the Picture
85. The Princesses and the Frog
91. Memoirs of an Invisible Dan
92. The Fasting and the Furious