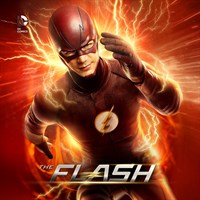 Description
Struck by the supercharged fallout of a particle accelerator explosion, forensic scientist Barry Allen becomes the fastest man alive: The Flash! It's up to the S.T.A.R. Labs team – Caitlin Snow, Cisco Ramon and Harrison Wells – and Barry's adoptive family, Detective Joe West and Joe's daughter, Iris, to help Barry use his newfound time-warping ability to stop other powerful metahumans from perpetrating evil in their beloved Central City. But even while the Scarlet Speedster protects the world from an otherworldly villain known as Zoom, he's desperate to solve the mystery surrounding his mother's murder by the Reverse-Flash. Bolt through The Complete Seasons One and Two of the action-packed new series from the creative team behind Arrow.
Episodes
1. City of Heroes (Pilot)
3. Things You Can't Outrun
9. The Man in the Yellow Suit
10. Revenge of the Rogues
11. The Sound and the Fury
19. Who Is Harrison Wells?
24. The Man Who Saved Central City
27. The Fury of Firestorm
28. The Darkness and the Light
33. Running to Stand Still
35. The Reverse-Flash Returns
Additional information
Genres
Action/Adventure
Drama
Sci-Fi/Fantasy
Duration
47 episodes (1 day 9 h 23 min)