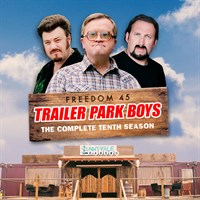 Description
Julian's bar is now fitted out as an all-inclusive casino and business is good. When Bubbles' internet somehow connects into a major US TV show, there's suddenly the opportunity to get the word out even more.
Episodes
2. "You Want The Lot Fees, Suck Them Out Of The Tip Of My C**k"
3. A Three Tiered Sh*t Dyke
4. Sh*t Covered Cave Teeth
5. If You Don't Believe It, It's Not Real
6. All The F***kin' Dope You Can Smoke!
8. The Super Bling Cowboy
9. Thugged Out Gangsta Sh*t
10. Looks Like The Liquor Wins
Additional information
Duration
10 episodes (4 h 26 min)