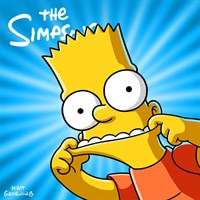 Description
In the spectacular The Simpsons 10th season, Homer becomes an inventor, Bart becomes a mother, Lisa gets an "A," Mark Hamill sings "Luke Be a Jedi," Homer floods the town for art and Stephen Hawking saves Lisa's brain!
Episodes
2. Wizard of Evergreen Terrace
4. Treehouse of Horror IX
5. When You Dish Upon a Star
8. Homer Simpson in: "Kidney Trouble"
11. Wild Barts Can't Be Broken
15. Marge Simpson In: "Screaming Yellow Honkers"
18. Simpsons Bible Stories
20. The Old Man and the 'c' Student
21. Monty Can't Buy Me Love
22. They Saved Lisa's Brain
23. 30 Minutes Over Tokyo
Additional information
Duration
23 episodes (8 h 44 min)