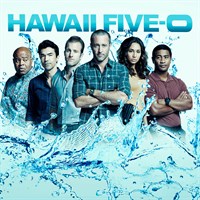 Description
The 10th season of HAWAII FIVE-0 finds McGarrett (Alex O'Loughlin) and Five-0 reeling from the shots fired in HQ and who on the team was hit. Once the smoke clears, some familiar faces such as Steve's mom, Doris McGarrett (Christine Lahti) and imprisoned hacker Aaron Wright (Joey Lawrence) return and we meet some new allies in the task force's quest to wipe out the crime that washes up on the islands' sun-drenched beaches. Whether Danny (Scott Caan) pesters McGarrett about his failed love life, Junior (Beulah Koale) and Tani's (Meaghan Rath) budding relationship or reevaluating Adam's (Ian Anthony Dale) allegiances, Five-0 continues to protect their loved ones and Hawaii's citizens and visitors in the 50th state.
Episodes
1. Ua 'eha ka 'ili i ka maka o ka ihe
2. Kuipeia e ka makani apaa
3. E uhi ana ka wa i hala i na mea i hala
4. Ukuli'i ka pua, onaona i ka mau'u
5. He 'oi'o kuhihewa; he kaka ola i iike 'ia e ka makaula
6. A'ohe pau ka 'ike i ka halau ho'okahi
8. Ne'e aku, ne'e mai ke one o Punahoa
9. Ka la'au kumu 'ole o Kahilikolo
10. O 'oe, a 'owau, nalo ia mea
11. Ka i ka 'ino, no ka 'ino
12. Ihea 'oe i ka wa a ka ua e loku ana?
13. Loa'a pono ka 'iole i ka punana.
14. I ho'olulu, ho'ohulei 'ia e ka makani
15. He waha kou o ka he'e
16. He kauwa ke kanaka na ke aloha
17. He kohu puahiohio i ka ho'olele i ka lepo i luna
18. Nalowale i ke 'ehu o he kai
19. E ho'i na keiki oki uaua o na pali
21. A 'ohe ia e loa'a aku, he ulua kapapa no ka moana
Extra: Dennis Chun Then and Now
Additional information
Duration
22 episodes (15 h 42 min)