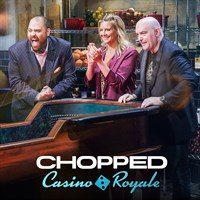 Description
CHOPPED is a cooking competition show that's all about skill, speed and ingenuity where 4 up-and-coming chefs compete before a panel of 3 expert judges and take everyday items and turn them into an extraordinary 3-course-meal.
Episodes
2. All Stars: Prime Time/Day Time
4. All Stars: FN Star Contestants
6. Frozen Fries with That?
7. All Stars: Judge Remix
8. Redemption Competition
9. Chopped All Stars Grand Finale
12. All Stars Iron Chefs Do Battle
Additional information
Age rating
Genres
Documentary/Bio
Educational
Duration
13 episodes (9 h 6 min)