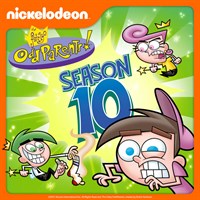 Description
Timmy Turner is an average kid - sort of. He's an only child with oblivious parents. But luckily he has Cosmo and Wanda, his wacky fairy godparents who help him hide from evil babysitters, do homework and much more craziness!
Episodes
1. The Big Fairy Share Scare
2. Whittle Me This/Mayor May Not
3. Girly Squirrely/Birthday Battle: Transmorphers Versus Unicorns
4. A Sash and a Rash/Fish Out of Water
6. Animal Crockers/One Flu Over the Crocker's Nest
7. Clark Laser/Married to the Mom
9. Certifiable Super Sitter
10. Dadlantis/Chloe Rules!
11. Crockin' The House/Tardy Sauce
12. Fairy Con/The Hungry Games
13. Space-CADAD/Summer Bummer
14. Hare Raiser/The Kale Patch Caper
Additional information
Age rating
Genres
Action/Adventure
Animation
Comedy
Family/Children
Duration
14 episodes (5 h 26 min)