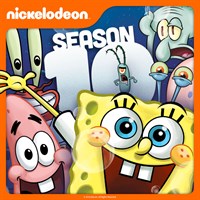 Description
Who lives in a pineapple under the sea? SpongeBob SquarePants! Follow the adventures of this enthusiastic, optimistic sponge whose good intentions inevitably lead him and his friends into trouble.
Episodes
1. Whirlybrains/MermaidPants
2. Mimic Madness/House Worming
3. Snooze You Lose/Krusty Katering
4. SpongeBob's Place/Plankton Gets the Boot
5. Life Insurance/Burst Your Bubble
6. Plankton Retires/Trident Trouble
7. Unreal Estate/Code Yellow
8. The Getaway/Lost and Found
9. Patrick's Coupon/Out of the Picture
10. Feral Friends/Don't Wake Patrick
11. The Incredible Shrinking Sponge/Sportz?
Additional information
Age rating
Genres
Animation
Comedy
Family/Children
Duration
11 episodes (4 h 19 min)