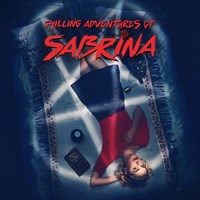 Description
CHILLING ADVENTURES OF SABRINA imagines the origin and adventures of Sabrina the Teenage Witchas a dark coming-of-age story that traffics in horror, the occult and, of course, witchcraft. Tonally in the vein of Rosemary's Baby and The Exorcist, this adaptation finds Sabrina wrestling to reconcile her dual nature - half-witch, half-mortal - while standing against the evil forces that threaten her, her family and the daylight world humans inhabit.Based on the Archie Comics Graphic Novel.
Episodes
1. Chapter One: "October Country"
2. Chapter Two: "The Dark Baptism"
3. Chapter Three: "The Trial of Sabrina Spellman"
4. Chapter Four: "Witch Academy"
5. Chapter Five: "Dreams in a Witch House"
6. Chapter Six: "An Exorcism in Greendale"
7. Chapter Seven: "Feast of Feasts"
8. Chapter Eight: "The Burial"
9. Chapter Nine: "The Returned Man"
10. Chapter Ten: "The Witching Hour"
11. Chapter Eleven: "A Midwinter's Tale"
Additional information
Duration
11 episodes (10 h 26 min)