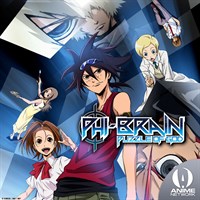 Available on
Xbox One
HoloLens
PC
Mobile device
Xbox 360
Description
Kaito Daimon is a genius when it comes to puzzle solving -- so much so that he earns the Orpheus Armband, which allows him to unlock the full potential of his brain. But it also causes him to be noticed by POG, a sinister organization obsessed with puzzle solving, even at the expense of others' lives.
Episodes
1. A Pact Concealed Within a Maze
2. The Philsopher's Reward
3. The Melancholy of a Boy Genius
4. The Girl in the Closed Room
5. Invitation from a Nightmare
6. Resurgence Toward the Light
8. Crab! Hot Springs! The Puzzle King!
9. The Fallen Apple and the Path's Continuation
10. Welcome to the Queen's Country
11. The Queen Strikes Back
12. Puzzle Time at Reunion
Additional information
Duration
13 episodes (5 h 32 min)