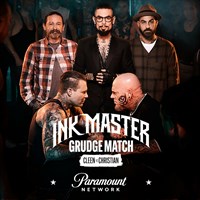 Available on
Xbox One
HoloLens
PC
Mobile device
Xbox 360
Description
Two of Ink Masters most legendary rivals, Cleen Rock One and Christian Buckingham, return to settle the score by coaching teams filled by some of the nation's best tattoo artists. The artists must prove they have the skill and determination to win.
Episodes
5. That's Gonna Leave A Mark
6. Fight Your Own Battles
14. What Are You Crayon About?
15. Prelude to a Bloodbath
101. Cleen vs Christian: Road to Rivalry
Additional information
Networks
Paramount Network
Duration
18 episodes (11 h 6 min)