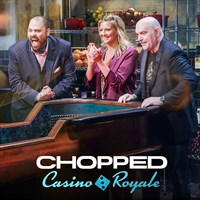 Available on
Xbox One
HoloLens
PC
Mobile device
Xbox 360
Description
CHOPPED is a cooking competition show that's all about skill, speed and ingenuity where 4 up-and-coming chefs compete before a panel of 3 expert judges and take everyday items and turn them into an extraordinary 3-course-meal.
Episodes
1. Happy Turkey Gizzards Day!
3. A Very Piggy Halloween
6. Leftovers Extravaganza!
7. Chopping in Winter Wonderland
10. Ready, Set, Escargot!
Additional information
Age rating
Genres
Documentary/Bio
Educational
Duration
13 episodes (9 h 7 min)