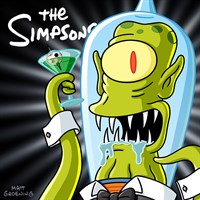 Available on
Xbox One
HoloLens
PC
Mobile device
Xbox 360
Description
In this emmy-winning season, the town must contend with a multitude of Homers, Homer hires a detective to learn more about Lisa, Krusty becomes a Kongressman and Maggie finds a new friend in Moe.
Episodes
1. Treehouse of Horror XIII
2. How I Spent My Strummer Vacation
3. Bart vs. Lisa vs. 3rd Grade
6. The Great Louse Detective
8. The Dad Who Knew Too Little
9. The Strong Arms of the Ma
12. I'm Spelling as Fast as I Can
14. Mr. Spritz Goes to Washington
16. 'scuse Me While I Miss the Sky
17. Three Gays of the Condo
18. Dude, Where's My Ranch?
20. Brake My Wife, Please
Additional information
Duration
22 episodes (8 h 3 min)