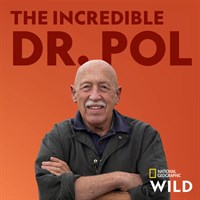 Description
Dr. Pol and his team are tackling a case load like no other. A tiny Chihuahua is immobile from a major car accident. Dr. Pol hustles to save a flailing Arabian horse. Chinchillas, guinea pigs, and geckos are keeping the Vets busy. Then, arriving after-hours is a sweet family lab with a mangled leg. Days later, the lab's housemate is rushed in with labor complications!
Episodes
3. Here Comes Guinea Boo Boo
8. The Chester-Shire Calf
9. Twenty, Twenty, Twenty Four Puppies to Go!
Additional information
Networks
National Geographic
Duration
10 episodes (7 h 17 min)