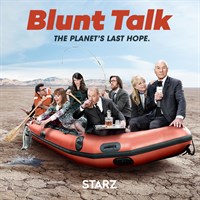 Description
"Blunt Talk" follows Walter Blunt, a British import intent on conquering American nightly cable news and the fallout from his well-intentioned, but mostly misguided decision-making, both on and off the air. Through his show, Blunt's mission is to impart his wisdom and guidance on how Americans should live, think and behave. Besieged by a dysfunctional news staff, his only support is the alcoholic manservant he transplanted from the U.K.
Episodes
1. I Remember That Time More Like A Movie I Saw Than A Like I Lived
2. If It Comes In A Plastic Bag, Don't Eat It
3. Your Therapist And His Pussy Are Here
4. How Is It That Every Conversation We Have Comes Back To The Size of Your Penis
5. It's Been Months Since I Kidnapped You
7. I Can't Believe I Made Love To A Sociopath
8. A Cell Doesn't Have To Be A Closet
9. Walter Has To Look After Walter
10. Is This All Because I Didn't Call You?
Additional information
Duration
10 episodes (4 h 38 min)