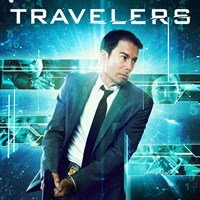 FBI agent Grant MacLaren and his team investigate a mysterious fellow traveler while resisting the Faction, a renegade splinter group from the future.
Description
Travelers Season two picks up where season one left off, with FBI Special Agent Grant MacLaren and his team of time travelling specialists attempting to navigate their 21st century lives while tasked with the mission of saving the future from a dystopian existence. The Travelers will face their most difficult obstacles yet, including the Faction, a deadly virus, and a mysterious new Traveler, all while continuing to live the everyday lives of the present-day host bodies they've taken over.
Episodes
Ave Machina
Season 2, Episode 1 Unrated CC SD CC HD
Vincent Ingram (Traveler 001) recounts his arrival in the 21st century to his therapist, Dr. Perrow. Vincent's arrival was meant to be the first test of projecting human consciousness through time and he was intended to die in the fall of the World Trade Center on September 11, 2001, so as not to affect the timeline - but soon after arrival, he went off-mission and into hiding from the Director. Meanwhile, Mac and his team are being interrogated by the FBI about the Quantum Frame and its purpose, while David deals with the aftermath of the assassination attempt on his life.
Protocol 4
Season 2, Episode 2 Unrated CC SD CC HD
Mac investigates a mass arrival of Travelers, while also trying to repair his marriage with Kat. Philip is given assistance with his addiction from fellow Traveler 4514, Jenny. Marcy treats David for PTSD, but is dealing with feelings of detachment and disassociation herself. Carly and Jeff try and clean up their act for Child Protective Services and regain custody of their son. Trevor and Grace bond in the hospital while recovering from their injuries.
Jacob
Season 2, Episode 3 Unrated CC SD CC HD
Three months after the events with the Quantum Frame, Mac and Kat are working through their issues during her first trimester. Marcy has moved out of David's apartment and has taken a job as an X-ray technician at a local hospital. Philip has traded one addiction for another, but is in denial about it. Trevor is growing concerned with the lack of communication from the Director. The discovery of a murdered Traveler team puts Mac on the trail of Vincent.
11:27
Season 2, Episode 4 Unrated CC SD CC HD
The Director assigns two new missions to the team: Mac, Carly and Marcy must assassinate Congressman Bishop in order to make him a martyr while Trevor and Philip must help a radical environmental activist succeed in her plan to bomb a research facility that is working on a genetically modified seed that has disastrous consequences for the future.
Jenny
Season 2, Episode 5 Unrated CC SD CC HD
Philip commits an anti-viral formula to memory sent via messenger while under the influence of drugs. The information is passed on to fellow Traveler Derek via Jenny so it can be synthesized and distributed to other Traveler teams as well as people targeted to be saved in order to minimize the spread and mutation of a flu like virus that historically killed 70,000 people. However, two weeks after dissemination, people around the world start getting sick with a virus even more dangerous than the original one. With no contact from the Director, and the death toll rising, Marcy and the team rush to find a solution before it's too late.
U235
Season 2, Episode 6 Unrated CC SD CC HD
With the Faction's plan to kill 30% of the global population well underway, and medical nanites proving useless as a cure, Grace realizes the only way to solve the problem is to find a way to fix the Director in the future so it can send help back to the 21st century.
17 Minutes
Season 2, Episode 7 Unrated CC SD CC HD
The team is given a mission to collect and safeguard the original power source of the Director, as it will likely be the remaining Faction members' next target. The mission is going smoothly, but the team is ambushed and killed by the Faction. With its very existence in danger, the Director initiates Protocol Alpha - and sends back a Traveler to save the team before they are killed, but the remote location, small time window, and only two host candidates within geographic range makes the probability of success low.
Traveler 0027
Season 2, Episode 8 Unrated CC SD CC HD
Three high-ranking Travelers are sent back by the Director to put Grace on trial for violating protocols, overwriting a person who was not assigned to be her host, and sabotaging the Grand Plan. Mac and the team must give testimony at the trial that will determine if she should be overwritten or not. Meanwhile, the Faction is trying to replenish its numbers by overwriting people with the stored minds in the Quantum Frame. It transpires the trial was staged by the Director to flush out a Faction member from within the three Travelers judging Grace, which it successfully does, this leading to Mac's team securing the Quantum Frame.
Update
Season 2, Episode 9 Unrated CC SD CC HD
Philip is ordered by the Director to attend an "update" with various other Historians, which is where the altered timeline's history is imprinted onto their minds, but it comes with physical and emotional consequences. Trevor tries to help a former football teammate with past trauma. Hall returns from prison and has a new mission assigned to him from the Director. Kat has complications with the pregnancy.
21C
Season 2, Episode 10 Unrated CC SD CC HD
Marcy puts herself in a near-death state to recover her lost memories from when she was reset. While she is out of commission, Mac and the rest of the team are ordered to provide Hall with backup in protecting the future 53rd President of the United States, who is currently a prepubescent girl.
Simon
Season 2, Episode 11 Unrated CC SD CC HD
The team track down Simon (Traveler 0004), a specialist who was sent into a host body that developed schizophrenia after arrival. Simon is haunted by hallucinations of Vincent, who convinced an institutionalized Simon the Director sent him on a new mission to help cure Simon.
001
Season 2, Episode 12 Unrated CC SD CC HD
Vincent asks the team to stand down and let him finish what he has been planning. When the team refuses to comply, Vincent holds the lives of Kat, David, Jeffery, Ray and Grace over them, and forces them to reveal themselves as Travelers to the world. The team must make the choice between breaking protocol and thus risking being overwritten by the Director, or doing what they must to save the ones they've grown to care about since their arrival in the 21st.
Additional information
Duration
12 episodes (8 h 53 min)
Duration
12 episodes (8 h 53 min)
| | |
| --- | --- |
| Windows | Windows 8, Windows 8.1, Windows 10 or later |
| Xbox | Xbox 360, Xbox One, Xbox One S, Xbox One X |
| Mobile | Windows Phone 8, Windows Phone 8.1, Windows 10 or later |
Portions of content provided by Tivo Corporation - © 2021 Tivo Corporation