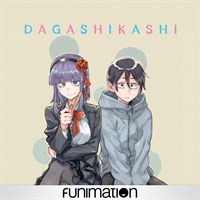 Available on
Xbox One
HoloLens
PC
Mobile device
Xbox 360
Description
Still determined to become a manga artist, Kokonotsu continues to work on his dream. But Hotaru refuses to give up on bringing him to the side of Japanese snacks! With new faces and new treats, will he finally be swayed to take over his father's shop?
Episodes
1. Big Katsu, Peperoncino, and...
2. Baseball Board Game Gum, Pop Pop Boat, and...
3. Beigoma, Reminiscence, and...
4. Homerun Bar, Fireworks Festival, and...
5. Ambulance, Get a Move On, You Cod!, and...
6. Convenience Store, Job Magazine, and...
7. Hajime Owari, Chocoball, and...
8. Roll Candy, High Eight Chocolate, and...
9. Internets, Super Ball, and...
10. Monjiro Squid, Manga Manuscript, and...
11. Homerun Bar Winning Stick, Snow, and...
12. I'm Back, Welcome Back, and...
Additional information
Duration
12 episodes (2 h 29 min)