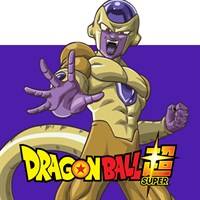 Description
Goku and his friends are back and finally have time to live normal lives. But when a new, powerful being shows up, their peaceful home is threatened again. Can they defeat Beerus, the God of Destruction? And what of this Super Saiyan God he seeks?
Episodes
1. This Is Every Ounce of Power I Have! The Battle of Gods' Conclusion!
2. Make a Miracle, Satan the Hero! A Challenge from Outer Space
3. Vegeta Becomes an Apprentice?! Winning Whis Over!
4. Pan Is Born! And Goku Goes on a Training Trip?!
5. I'm Here, Too! Training Begins on Beerus' Planet!
6. Despair Rises! The Emperor of Evil, Frieza, Resurrected!
7. Jaco's Warning! Frieza and His 1000 Troops Approach
8. The Start of Revenge! the Malice of Frieza Army Strikes Gohan!
9. Change! an Unexpected Return! His Name Is Ginyu!!
10. The Earth! Gohan! Absolute Peril! Hurry and Get Here, Son Goku!!
11. Clash! Frieza Vs Son Goku - This Is The Result of My Training!
12. An All-Out Battle! The Revenge of Golden Frieza
13. A Glint of Hope Shines Through in a Crisis! Time to Fight Back, Son Goku!
Additional information
Age rating
Genres
Action/Adventure
Anime
Duration
13 episodes (5 h 5 min)